Private Transfer To Sandals Resorts
Start your vacation the moment you leave the airport with

a




Private Transfer
to Sandals
Call Now to Reserve Yours 876-990-9623
Why Suffer With This?

(A Hot Walk to Large Buses & Long Waits)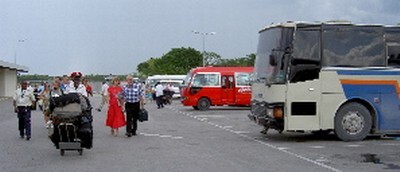 Private Transfer
to Sandals
Call Lloyd Lewis Now to Reserve Yours 876-990-9623
When You Can Enjoy This?

(Personal Driver, Door to Door, No Waiting)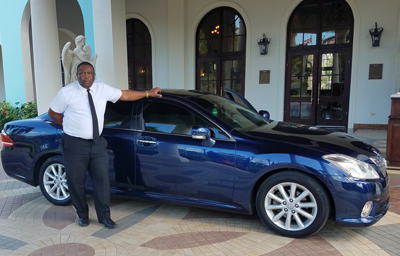 Everyone goes through immigration and customs in Montego Bay. Typically, once through customs, they will be directed to Sandals' arrival lounge. A very nice place, but nobody came all the way to Jamaica to hang out at the airport. Eventually, sometimes only a few minutes, more often 15 minutes, maybe 30 minutes or sometimes even longer, it will be announced that the transfer to Sandals is ready to board. So, everyone hurries out to the vehicle, gets on, and... waits. It could take another 5 minutes or another 20 minutes for everyone to get on.
But if you are different. (If you take advantage of our private transfer). You exit customs and go directly out the door of the terminal where you are met by Mr. Lloyd Lewis, your personal driver and tour guide. Your bags are loaded and you are on the your way. This may take all of 10 minutes.
Meanwhile, back at the bus, they are still loading bags and guests. This can take a while since all the Sandals and Beaches resorts in the same area (Negril, Ocho Rios, Montego Bay) share a common transfer. This can amount to a lot of people and if your are first on the bus you may sit another 20 minutes or more!
It could be over an hour from the time they clear customs until they get moving toward Sandals. Once moving, all they can do is sit back and enjoy the hour and 15 minute (Sandals Negril) or hour and a half (Sandals Grande Riviera or Sandals Whitehouse) drive to their final destination. There may be a stop at a predetermined travel halt so they can grab a patty and Red Strip and use the restroom, but otherwise they are a captive on a bus.
You, however, are already on vacation!
Anytime or anywhere you want to stop, Lloyd is able to do it for you.
See a road side stand you want to check out? No Problem!
Need a refreshment or restroom? No Problem!
Want to do a little shopping, play a round of golf, jump in the ocean, check out a local pub, or take in a sightseeing attraction in route to Sandals? Go for it!
There is a whole lot of Jamaica between the airport and Sandals, and you can watch it go by or take it all in. Mr. Lloyd Lewis is your own personal tour guide and will keep you out of trouble and into a great time! Even if you choose to go straight away to Sandals, he will a be great help for your orientation of Jamaica and give you a head start on the average visitor. You are one-on-one with an expert on Jamaica for your entire journey. You will be able to gain a wealth of information which will help make your entire stay that much more enjoyable. Don't pass up the opportunity to start your vacation the moment you leave the airport!
Questions? Call us at 876-990-9623