Sandals Butler Service -By far the best rooms at Sandals are the Elite Butler Suites. Butler service is well worth it, especially for honeymoon , vow renewal or anniversary trip.
Question: The Best Rooms at Sandals Resorts?


Answer: One Bedroom, Lagoon, Rondoval, & Millionaire Suites
(and you get a butler tossed in for free!)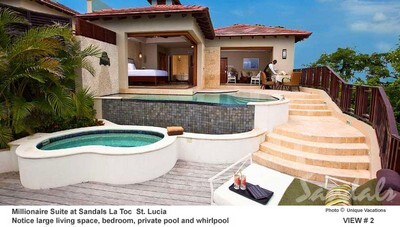 The highest level suites at each Sandals Resort have the best beachfront and oceanview locations. Depending on the suite, amenities include Jacuzzi tubs, large walk-in showers, separate living and bedrooms, private plunge pools, private entrance to "river pools", refrigerator and bar fully stocked with your preferences, and many more upgrades.

On top of the extra square footage, roomy balconies & patios, and all the other amenities, Sandals tosses in your own team of professional butlers to cater to your every whim.
You are greeted by your butler the minute you arrive at Sandals. He whisks you away to your room, passing several less fortunate couples who are stuck in the lobby waiting to check in. The first thing you do when you get to your room is go through the French doors and step out on your private balcony. Your breath is taken away by the deep turquoise Caribbean. The crystal clear water looks close enough to dive into from where you stand. All Sandasls Negril Beachfront 1 Bdr. Swim-Up Crystal Lagoon Suiteyour concern about whether a beachfront room was the right choice evaporates instantly.
Within minutes your check-in is complete and you head out to explore your new home. As you walk by the lobby you see the same couples you passed earlier still checking in. You think to yourself, "Boy, I'm sure glad we got the VIP check-in!"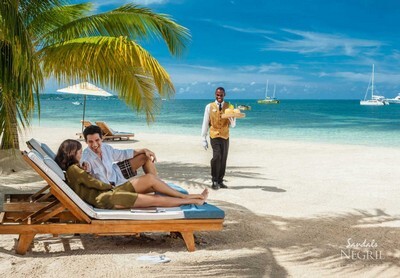 Later, you head back to your room after a day of fun in the sun. As soon as you walk in you know something is going on. The shades are drawn to darken the room. You follow a pathway marked by candles leading you from your living room through your bedroom finally ending in your spacious bathroom. Your Jacuzzi tub is illuminated by even more candles. You are instantly relaxed by the aroma from the scented bath your butler has surprised you with. As your eyes grow accustomed to the dim light you see the ice bucket accompanied by two chilled glasses and a bottle of champagne. Rose petals and flowers are suspended in the bath bubbles. A plate of handmade candies and chocolate covered strawberries complete the scene. And then you realize this is only your first day!
They will meet you in the drive and take you directly to your suite for a very private check-in. (No lobby or front desk for butler guests). From that point on anything you need or want is a phone call away. Your butler can reserve you the best beach and pool chairs and provide a stocked cooler. They can draw scented bathes and serve you dinner (or breakfast or lunch) in your suite. They can unpack, launder, and iron your clothes then pack you back up when it is time to Sandals Negril Butler Service on Beachleave. They can reserve you the best tables at the restaurants. If there is a wait list for dinner they can take you to the front of the line. They can arrange your tours, spa appointments and other activities.
This program is now been fine tuned to the point where many of the "Sandals Butler" level rooms have become the best value. Simply put, you get the most for your money when you are in a Sandals Resort Butler suite. We are now booking almost 50% of our clients in Butler level suites. Even though the cost and expectations are higher, guest satisfaction is the highest we have seen in 15 years!