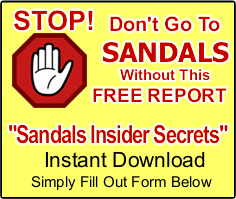 Now You Can Know in Minutes What Others Learn The Hard Way
Whether you are getting ready to book,
Or you've already booked,
I Guarantee My FREE REPORT
Will Save You Time, Money, and Grief
and Help You Get What You Want and Expect
"Gee, I wish I knew that before I got here!"
Something you will hear that a lot when you get to Sandals.
"Gee, I wish I knew that before I booked!"
(Something I hear a lot)
Order This FREE REPORT and Learn:
How to Get the Best Deal
The One Most Important Thing You Absolutely, Positively Must Do!
(before you get there)
How Room Upgrades Work
Things You Won't Find in the Glitzy Brochures and Fancy Website (but need to know)
And a Whole Lot More!