Accommodations
If you cannot decide whether Sandals Negril or Sandals Whitehouse is best for you based on the beach and pools, maybe the room choices will help.
At Sandals Negril the three lowest room categories may not have a balcony or patio, have very limited views of gardens, and no ocean view whatsoever. You may also experience road or resort noise in these rooms.
All the other rooms except for Millionaire Suites will be beachfront. Millionaire Suites overcome the lack of an ocean view by providing tons of space and private plunge pools.
The Crystal Lagoon Swim-Up Suites at Sandals Negril may be the best rooms Sandals has anywhere. Walk from your room right into the pool. Cross the pool and you are on the beach.
All rooms at Sandals Whitehouse have balconies or patios. All rooms face the ocean and the higher floors offer better ocean views. At Sandals Whitehouse there are three floor plans. All rooms up to the Club Level Suite are the same layout. These are very comfortable rooms with large bathrooms and sitting areas in addition to king size beds.
Lowest category rooms (luxury) are in the French village. Both the room category and the cost is higher for walkout and penthouse luxury rooms and for luxury rooms located in the Dutch and Italian Village. Club level rooms have the same floor plan as luxury rooms.
The next floor plan is the suites. 'Suite" will be in the room name instead of "room". Suites are larger and include a walk in shower, dual vanity, whirlpool tub, and much larger balcony than luxury rooms.
The best value rooms at Sandals Whitehouse are the One Bedroom Suites These rooms are located in the last building of the the Italian Village and the first building or the Dutch Village. They have the best location on the property. These rooms closest to the beach and are the only rooms directly parallel to the beach. The views are amazing. They are a true one bedroom with large walk-in showers, whirlpool tub, and double vanity attached to the separate bedroom. There is a flat screen TV in both the bedroom and living room. The living room includes a fully stocked wet bar, two love seats, coffee table, desk and huge patio or balcony.

Sandals Whitehouse Luxury Room

Sandals Whitehouse One Bedroom Suites

Sandals Whitehouse One Bedroom Beachfront Suite

Sandals Whitehouse One Bedroom Walk Out Suite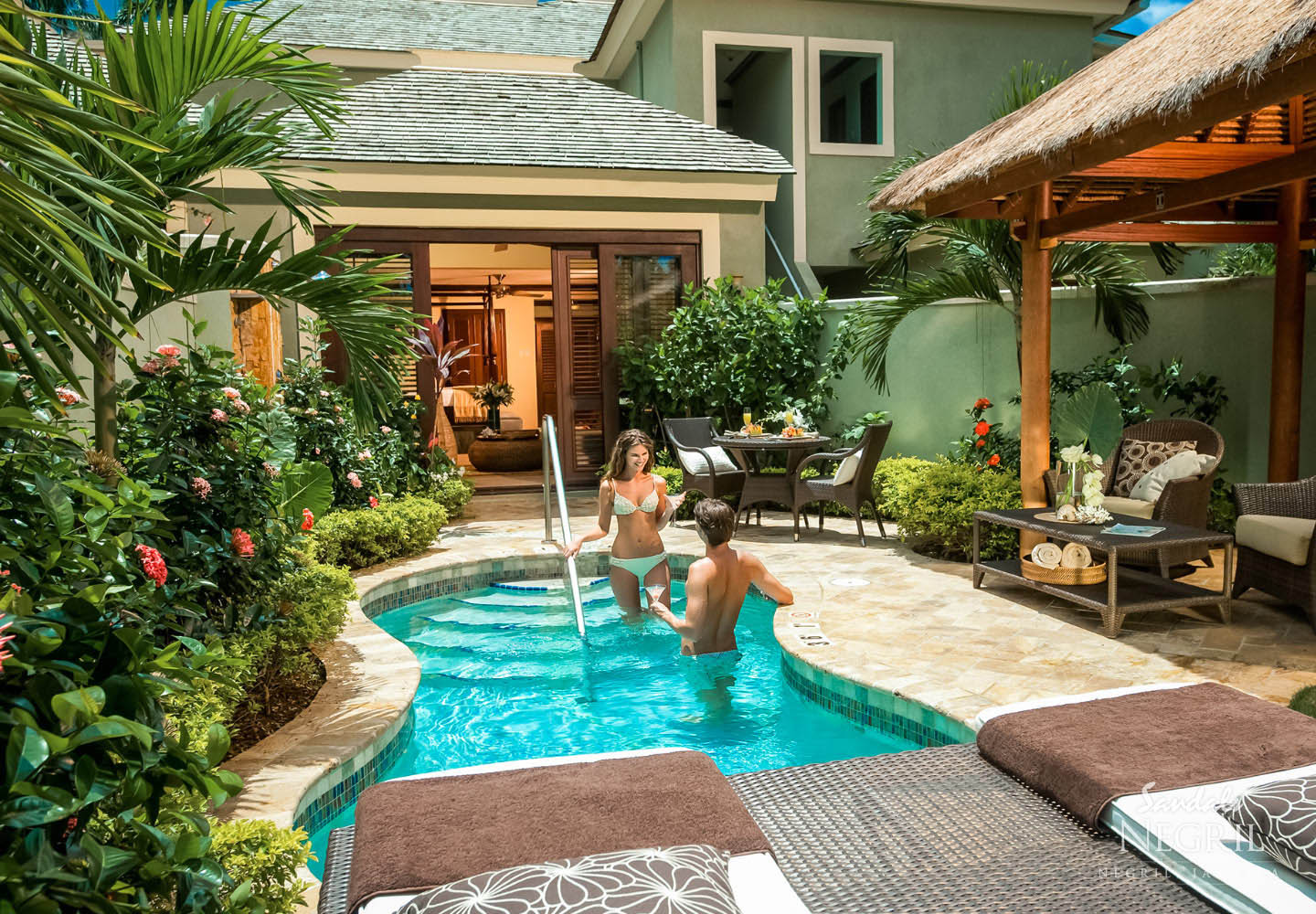 Sandals Negril Millionaire Suite

Sandals Negril Millionaire Suite

Sandals Negril Honeymoon Beachfront Suite

Sandals Negril Crystal Lagoon Swim-Up One Bedroom Suite