Complete Guide to SANDALS RESORTS


Click any photo to see full size - click enlarged photo to close



Best Sandals Resort For a Great Beach



Best Sandals Resort For Great Pools & Swim-Up Bars
.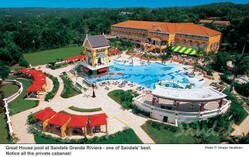 Best Sandals Resort For Ocean Front Rooms



.
Best Butler Rooms at Sandals Resorts




.



If Anything to Do With SANDALS RESORTS,
You Are in the RIGHT PLACE!
Get your answers here FOR FREE!

We never charge a fee to answer your questions or help you with your Sandals Resort vacation or honeymoon. You can even call us with your questions! 303-989-4880
Guess what? We don't work for Sandals so we can tell stuff they can't.
Depending on what you are looking for, each Sandals Resort has some things that are better than others. Each resort also a few things that may not be so good depending on your needs. It is often the most subtle differences that can be most important. Give us a call for detailed information of even the tiniest differences.